The latest research conducted by Interact Analysis reveals that the smart conveyance technology market experienced significant growth in 2022, and its future prospects appear more optimistic compared to the anticipated growth in manufacturing and machinery production.
Vendors in the smart conveyance technology sector are witnessing a rising trend in adoption across various industries and applications, as conventional conveyor systems are gradually being replaced. Interact Analysis has conducted an in-depth analysis in its latest report, focusing on both the linear and planar smart conveyance technology markets.
The linear smart conveyance technology market exhibited impressive growth, reaching 31.7% in 2022, a significant increase from the 27% growth observed in 2021. However, it is anticipated that this growth rate will decrease to approximately 23.6% over the next two years due to a less optimistic manufacturing outlook. Despite this, the period from 2022 to 2027 is projected to witness a global compound annual growth rate (CAGR) of 26.3% in the linear smart conveyance technology market. This will result in market expansion from $397 million in 2022 to over $1.2 billion in 2027.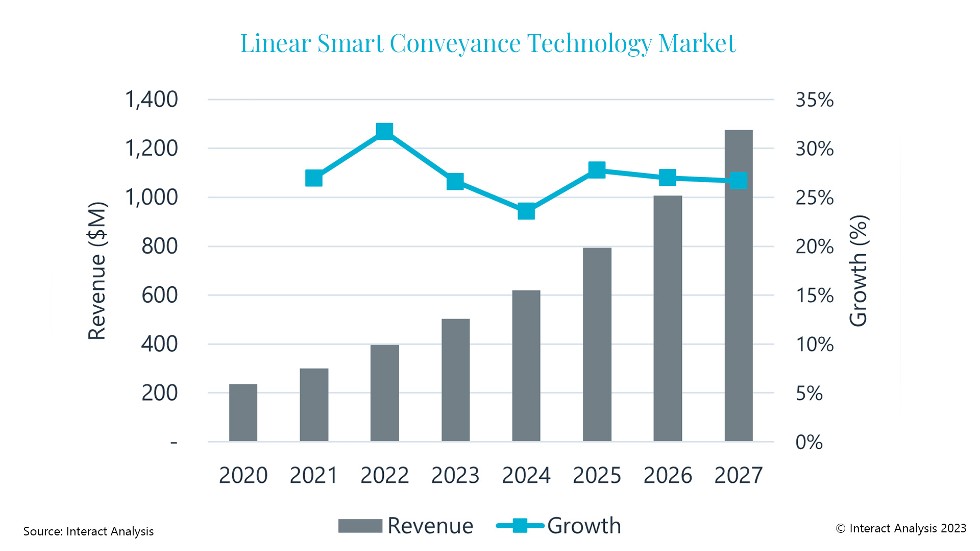 While the planar SCT market is much smaller than the linear SCT market, it is expected to be worth $100 million by 2027. The majority of customers currently using planar SCT technology are doing so in trial projects, with the market currently valued at $18.2 million. This segment of the SCT market will grow at a forecast CAGR of 41.2% between 2022 and 2027.
In addition to the broader challenges impacting the manufacturing industry, such as labor shortages and global economic uncertainty, the smart conveyance technology market continues to be affected by supply chain disruptions. Many SCT vendors have been compelled to seek out new component suppliers, and the escalating cost of raw materials has added significant pressure, exacerbated by rising inflation. Consequently, many vendors have been forced to raise the prices of their technology, passing on these additional costs to machine builders and, consequently, end users.
While lead times have posed challenges, they are gradually starting to alleviate, although some vendors are still experiencing production bottlenecks. Due to previous delays, customers have now grown accustomed to anticipating longer lead times when placing orders for automation technology. Nevertheless, there is an expectation that lead times will improve and prices will decrease in the future as the SCT market becomes increasingly competitive.
Tim Dawson, Senior Research Director at Interact Analysis says:
"There are many factors influencing the expansion of the smart conveyance technology market, with the major one being growth in manufacturing and automation. This will remain pivotal in driving market demand in the future. Many manufacturing processes now require precise movements and more rapid throughput of products, which is where smart conveyance technology comes into play. Although the market has experienced impressive growth, it is important to remember that it is still in its nascent phase.
Market awareness for this type of technology is growing and vendors are likely to see greatest success with existing customers, in particular those in industries they understand and already work with. The planar SCT market is still in the very early stages of adoption with most customers trialing the technology. Awareness and understanding of how to benefit most from this technology is extremely low for this segment of the market, even when compared with linear SCT products, which are themselves still not experiencing widespread adoption."
---
About the Report:
The 2nd edition of the Interact Analysis topical market report providing insight and analysis into the smart conveyance technology market, sometimes referred to as smart tracks and carriages, independent cart technology, flexible transport systems or multi-carrier motion systems.